Commitment to Success
Since 1983, Mullen Oilfield Services has been a leader in rig movement and logistics services for the energy industry in Canada. Today, Mullen Oilfield has become Canada's foremost oil and gas relocation companies with over 150 dedicated employees and 700 pieces of heavy oilfield moving equipment and support units.
Mullen Oilfield performs specialized off-road and off-highway equipment movement procedures including rig teardown, setup, rig and camp equipment relocation, in all types of conditions.
Our Leadership team believes in meeting corporate goals and objectives. As mentors of the organization, they are committed to providing a safe and healthy environment that fosters innovation and productivity, resulting in better service for our clients.
Zero incidents is our first priority and our highly trained crewmembers are always ready to service our customers with the utmost skill and professionalism.
Service Locations
Google Map →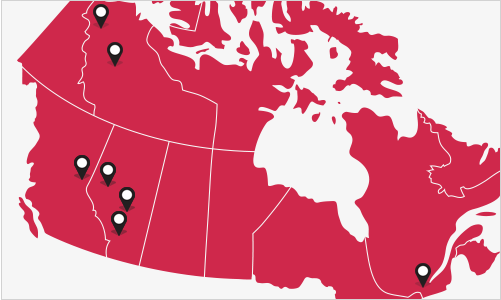 Calgary, AB HEAD OFFICE
Grimshaw, AB MULLEN
Leduc, AB MULLEN
Fort St. John, BC FSJ OILFIELD SERVICES
Trois Rivieres, QB SATELLITE
Inuvik, NWT SATELLITE
Norman Wells, NWT CANOL OILFIELD