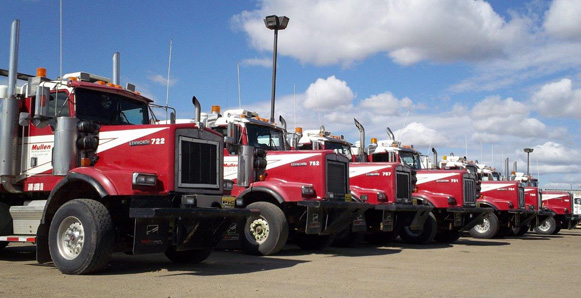 Commitment to Innovation
We are experts in the movement and storage of tubulars, drilling rig and related oilfield equipment in the Western Canadian Sedimentary Basin, Alaska and Canadian Arctic. We also offer a full service facility to inspect, maintain and repair heavy duty equipment. As a customer-based service company and as individuals, we accept the responsibility and challenge of providing customer excellence.
Services
Rig Moving
Mullen Oilfield, with strategically located full service terminals, is an industry specialist in location-to-location, inter-provincial and cross-border movement of drilling rigs and related equipment. Our ability to support large or small Rig Moves utilizing experienced Mullen crews ensures your project is always completed to the highest standard of safety and efficiency. The crews working on your job understand the area they are working, this allows for proper pre-job planning and execution.
Tubulars and Storage
Mullen Oilfield owns and operates a fleet of tubular transport equipment and storage facilities in Western Canada. Tubular products arrive by rail or truck to our yards where they are safely tabulated, stored and made accessible when needed by our clients.
Heavy Duty Mechanical
Mullen Oilfield operates a full service heavy duty repair facility in Grande Prairie, Alberta. The business is Commercial Vehicle Inspection Program licensed and offers bumper to bumper coverage including engine overhauls, chassis service and repair, air conditioning/HVAC servicing, brake repair and servicing.